A.D.V.I.C.E – Topic 5: Isolation & Loneliness (COVID -19 and beyond)
28th May 2020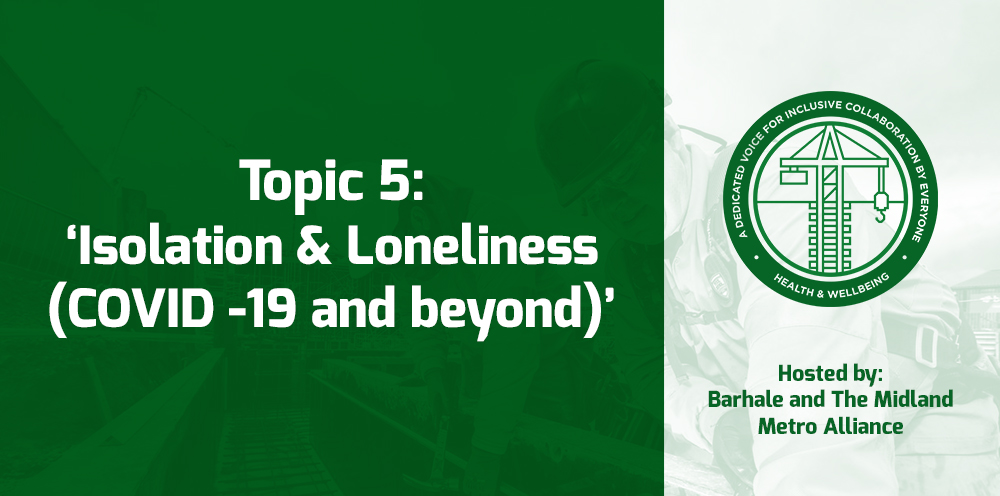 In September 2019, Barhale's Health and Wellbeing Lead, Joanne Southan, along with representatives from numerous organisations across the industry, proudly joined the A.D.V.I.C.E (A Dedicated Voice for Inclusive Collaboration by Everyone) scheme. This initiative focuses on supplying guidance and reputable services to all workers in need across the infrastructure industry, with a wide range of topics to be covered.
Joanne Southan and Jenny Mullet, Health and Wellbeing Manager at the Midland Metro Alliance, have collaborated to create the guidance note for Topic 5: Isolation & Loneliness (COVID -19 and beyond). Feelings of loneliness or isolation can affect anyone at any time and at any stage of our lives, however the topic is even more pertinent under the current coronavirus pandemic circumstances, due to the forced separation from those we love, bereavement or due to the lack of social connections with other people. The full guidance can be found here: Topic 5: Isolation & Loneliness (COVID -19 and beyond)
The A.D.V.I.C.E Health & Wellbeing scheme comprises of Contractors, Principal Contractors and Clients from the following Rail and Construction sectors; Barhale, Bovis Homes, Ciras, Colas Rail, Ganymede Solutions, McGinley Support Services, Midland Metro Alliance, Network Rail, RSS Infrastructure, Transport for Wales, Van Elle Limited and Vital Human Resources/Morson Group.
Guidance on previous topics which have been covered by the group so far can be found here:
Topic 1: 'Help with Debt' hosted by RSS Infrastructure
Topic 2: 'Gambling' hosted by CIRAS
Topic 3: 'Mental Health (COVID -19)' hosted by Van Elle
Topic 4: 'Alcohol (COVID-19)' hosted by Vital Human Resources