Barhale appoints new Scottish Regional Manager
24th April 2018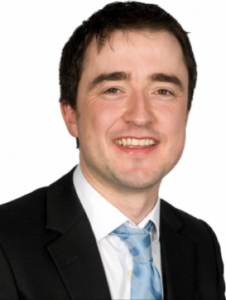 Barhale is delighted to announce the appointment of Patrick Seymour as Regional Manager (Scottish region).
Originally from County Tipperary, Ireland, Patrick has a BEng degree in Civil & Environmental Engineering from the University of Edinburgh and has worked previously for Morgan Sindall, Lagan Construction and Carillion.
A chartered member of the ICE, Patrick will oversee Barhale's operations in Scotland. He will be responsible for setting the strategic direction and managing the safe, sustainable and profitable delivery in line with the business plan. Patrick will lead a team of 25 directly employed staff to ensure the safe delivery of infrastructure projects for a range of clients including Scottish Power, Local Authorities, private companies and public development partnerships.
"I am really looking forward to working for Barhale," says Patrick.
"I've have joined the company at an exciting time. We have an excellent team here in Glasgow with experience across all sectors of civil engineering including transport, water, energy and tunnelling. As we look towards the future, I can see that exciting times lie ahead for the team as we grow the business across all sectors, developing collaborative working relationships with new clients in the process. At the same time we will maintain our focus on the safe, sustainable and profitable delivery of projects working collaboratively with our established Client base. "
Matthew Behan, CEO of Barhale, said: "We are delighted to welcome Patrick to our team. His past experience as a civil engineering and construction professional is exceptional and is vital as our presence in Scotland continues to grow."
Patrick joins Barhale with nearly 20 years' experience in the industry across a broad range of civil engineering projects, from constructing ferry terminals on the Inner Hebrides and flood prevention schemes in city centre environments, to the Saltire Award winning redevelopment of Haymarket Station.
When not working, Patrick enjoys golf, rugby and spending time with his young family.
Barhale's Scottish regional office is at 6th Floor, Buchanan Tower, Buchanan Business Park, Stepps, G33 6HZ.