Barhale begins secondary shaft lining works on the Thames Tideway Tunnel
16th July 2021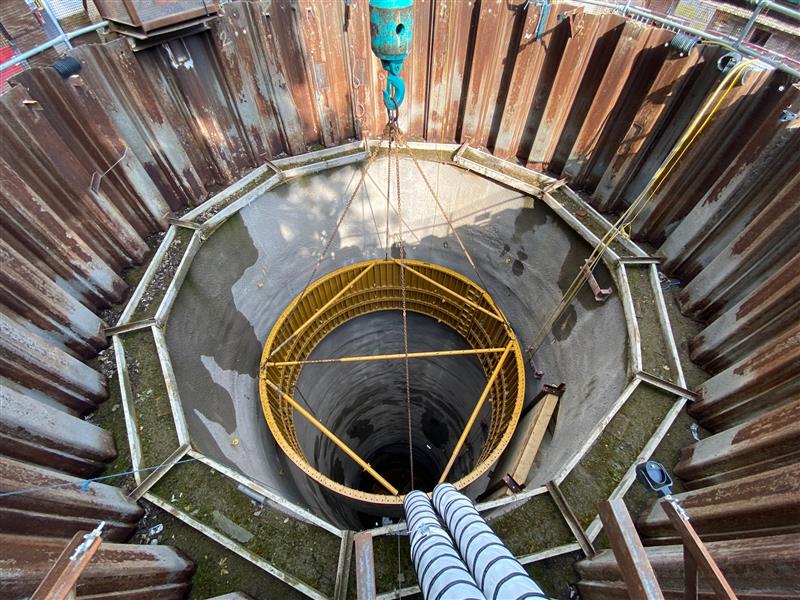 Our southern team has commenced the secondary shaft lining at Barn Elms in West London. It is the second of two lining projects the team have delivered on the Thames Tideway Tunnel – the first was at Victoria Embankment.
This latest milestone is an integral part of the programme of works to divert the West Putney Storm Relief Combined Sewer Overflow (CSO) at Barn Elms in Richmond, West London. The secondary shaft lining will comprise a 6m internal diameter and minimum 350mm thick reinforced concrete layer. This will be cast against the primary Sprayed Concrete Lining (SCL) to provide surge support to the shaft structure and act as a secondary waterproof barrier. It will also protect against the chemical and physical impact of the sewer discharges and ensure its 120-year design life.
To save time and reduce energy consumption during the project, a custom formwork system, which combines the standard formwork panels with circular ones, will be installed to enable both the shaft secondary lining and Vortex Drop Tube surround to be cast at the same time unlike other sites on the project. The Vortex Drop Tube, which has an internal diameter of 1.4m, is a bespoke fabricated stainless steel tube. This will be temporarily supported up the shaft by a series of extendable props fixed between the tube and the shaft lining. The concrete surround cast around the drop tube is designed to ensure that vibrations from hydrodynamic effects do not compromise the structure.
Pours upto 42m³ in volume will be poured using mobile concrete pumps.
Sub Agent, Andrei Axinte explained that, "This is a key milestone for the project as it enables the team to complete the shaft internal structures and commence the surface hard landscaping and demobilisation works."
Barhale was awarded the main civils package by the BAM Nuttall, Morgan Sindall, Balfour Beatty (BMB) joint venture which is delivering the west section of the 25km Thames Tideway Tunnel.