Barhale clinches Gold
2nd September 2021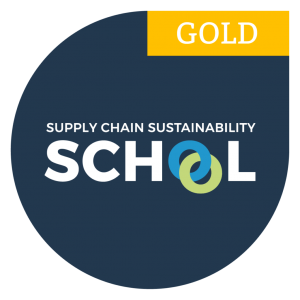 We are delighted to have achieved Gold Level membership within the Supply Chain Sustainability School. This comes following a re-assessment of our processes over the last 12 months as well as the continuous engagement of our people from across the business with the school's extensive resource.
The achievement is further testament to the business' commitment to improve the environment we work in, protect communities through the work we do and provide real benefits to society. Our environmental performance is a key component of our Three Pillars business strategy and informs how we set about delivering projects on behalf of our clients.
Paula Gray, Head of Procurement said, "This is a great achievement for us as a business and one more step in the right direction in our continuous quest to becoming a more sustainable contractor", she said. "At Barhale, we actively encourage our staff to engage with the Supply Chain Sustainability School, it is a very good resource to learn from and develop good habits."
To find out more about this membership and our sustainability journey as a business, follow this link to our case study on the Supply Chain Sustainability School website.