Barhale Construction Services Acquires 100 Renault Vans
12th June 2018
Barhale Construction Services Ltd (BCS), a division of Barhale, has acquired 100 new Renault vans to supplement and add to its fleet.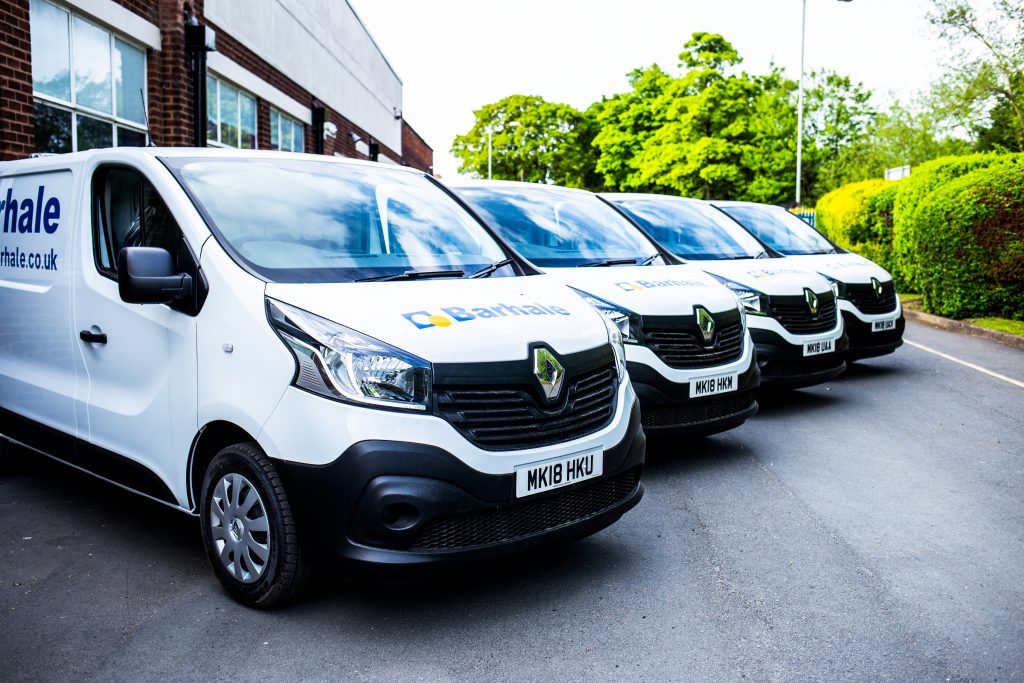 Ranging from small two-seater Kangoo vans to double cab tippers, the vehicles will take the size of the BCS fleet to in excess of 200. Other new Renault vehicles for the BCS fleet include medium and large panel vans such as the Renault Trafic and Renault Master as well as pick-ups.
The vans, with their energy efficient Euro-6 engines, all boast a high specification with the pick-ups and tippers having payload indicators and a fall arrest hand rail system. BCS' panel vans all have racking from specialist providers, hand wash facilities, internal LED lighting and large rear access steps and handles. To achieve Crossrail compliance, the vehicles also have fire extinguishers, spill kits, spare bulb kits, rear chevrons, reverse beepers and LED flashing beacons.
"We have just started to receive the new Renault vans and they are a significant addition to our fleet," says James Mulchinock, General Manager at BCS. "BCS is part of the Barhale Group supplying all its fleet and many of the plant hire and consumables requirements throughout the business.
"As well as the Renault vehicles, we are supplying electric vans to use in our Eastern region for Anglian Water. These will be liveried to show that they produce zero emissions."
On top of the added features, such as the high specification racking, the larger rear access steps and payload indicators, all the new vehicles will have forward facing cameras. Linked into an innovative Telematics system, BCS will be able to monitor driver performance, plot the vehicles' whereabouts and in the case of an accident or incident have access to video footage.
The Telematics system scores driver style and behaviour via a dash-mounted LED display showing a red, amber, green index, highlighting potential risks while encouraging safer and more cost-effective driving. This provides the driver with real-time information that can be fine-tuned to adjust their driving style. By addressing dangerous events on the road and then reducing their frequency and levels through feedback, insurance premiums can be reduced by as much as 40% and maintenance costs cut. Elsewhere, by educating the driver about excessive acceleration and speed events, and feeding back on the drivers' scores, fuel efficiency has been seen to increase by more than 10mpg in some cases.
Data is presented in a detailed graph for individual drivers and can be compared across the fleet with scores calculated on harsh acceleration, excessive braking, speeding events, night driving and urban driving.
BCS also ensures that all its drivers complete a safe urban driving course, while additionally they are currently undertaking an e-learning programme which in the future will be rolled across the entire Barhale business.
Currently, the BCS fleet has silver accreditation with the Fleet Operators Recognition Scheme (FORS) but is looking to achieve gold accreditation though the addition of the new vans, its training and commitment to driving safety and excellence.