Barhale goes litter-picking for team challenge
9th March 2016
At their Annual Awards Conference held at Bescot Stadium last November, Barhale's Chairman Dennis Curran, announced an initiative to reinforce the Company's sustainability values of Profit, Safety and Environment, and how these impact positively not just on Barhale itself, but also on the local area. Several events were kick-started at their head office in Walsall last month with challenges focused around the environment and health & wellbeing. One of the main objectives set out when this project launched was to ensure teamwork was at the forefront. Barhale's Walsall office took a hands-on approach to making conscious health swaps throughout the week, with lunchtime walks in the sunshine, to organised sporting activities with one team even arranging a boot camp in one of the Company's dedicated suites at their Conference and Training Centre in Wallows Lane. Some staff took it one step further and made the choice to quit smoking.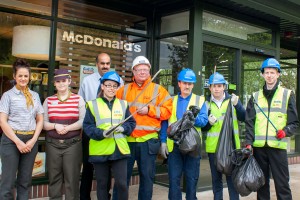 This week, the challenge for the teams shifted to waste and how this can be reduced. But it didn't just stop with waste generated in the business; staff also looked at how they can bring this into their homes and local communities. One of the teams (seen here) even braved the wind and pulled on their Barhale hi-vis jackets to go litter picking at the local McDonalds restaurant situated on Broadwalk Retail Park, on Bescot Crescent.
Barhale offices up and down the UK will be getting involved over the coming months bringing the whole business together in contributing towards the Company's Three Pillars philosophy and the impact this can have both internally and externally.