Barhale receive Considerate Constructors Scheme Certificate of Excellence for North London Heat and Power Project works
12th July 2021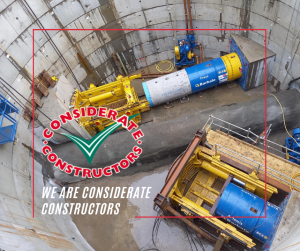 We are delighted to announce that Barhale's Southern Region has received a Certificate of Excellence from the Considerate Constructors Scheme (CCS) for the work it is delivering at the North London Heat and Power Project (NLHPP) in Edmonton on behalf of the North London Waste Authority (NLWA).
The Considerate Constructors Scheme is a not-for-profit, independent organisation founded to raise standards in the construction industry.
The works at the NLHPP site have included simultaneous pipejacks from a single shaft. Two Iseki 1200 Tunnel Boring Machines (TBMs) completed two pipejacks of 122m and 210m to install two new 1200mm sewers, diverting the existing Chingford and Angel sewers belonging to Thames Water.
Barhale's Project Manager, Jacques Deneys, is proud of the efforts made by the team in achieving the certificate. He says, "I can only thank the project team for their continuous efforts on the scheme, always considering others and ensuring to minimise any impact to the local community, especially through the difficulties of the current pandemic. Barhale and NLWA have worked closely with the local boroughs to ensure frequent communication regarding the scheme and notification of any changes well in advance.
"The team have done exceptionally well and I am very proud to represent Barhale and the scheme with the results obtained."
Congratulations to the team!