Barhale Restores Iconic Water Tower with 180 tonnes of Scaffold and 10,000 litres of Paint
9th January 2018
Barhale has restored the iconic Chatterton Water Tower in Spalding, Lincolnshire. Located in the centre of the town, the water tower, which was officially opened in 1955 by The Marquess of Exeter is a cubic structure standing 30m tall and 29m wide and visible for miles around.
As part of Anglian Water's Integrated Operational Solutions (IOS), one of the new alliances for AMP6 and beyond, Barhale steam-cleaned and re-painted the tower that holds up to 3.4 million litres of fresh water, providing drinking water and essential pressure to over 22,000 properties in Spalding and the surrounding rural areas. The Chatterton Tower is one of nine water towers in East Lincolnshire, and among hundreds across the Anglian Water region, benefitting from the company's significant capital investment for the maintenance of its existing assets.
"This is a very high profile structure in the town so it was vital that work on the tower was carried out sensitively and to the highest standards," says James Ingamells, Framework Manager at Barhale. "It was a challenging contract and collaboration with client Anglian Water and specialist scaffold contractor Interserve has been vital. We also tried to make sure that the residents and local businesses knew how we were progressing by ensuring a member of the team was always on hand to answer any concerns."
In order to deep steam clean and re-paint the 4000m2 surface of the tower, Barhale delivered a bespoke temporary works solution. A 15-level design, consisting of 180 tonnes of scaffold poles and 70 tonnes of scaffold boards, it took a team of between six and eight scaffolders eight weeks to install.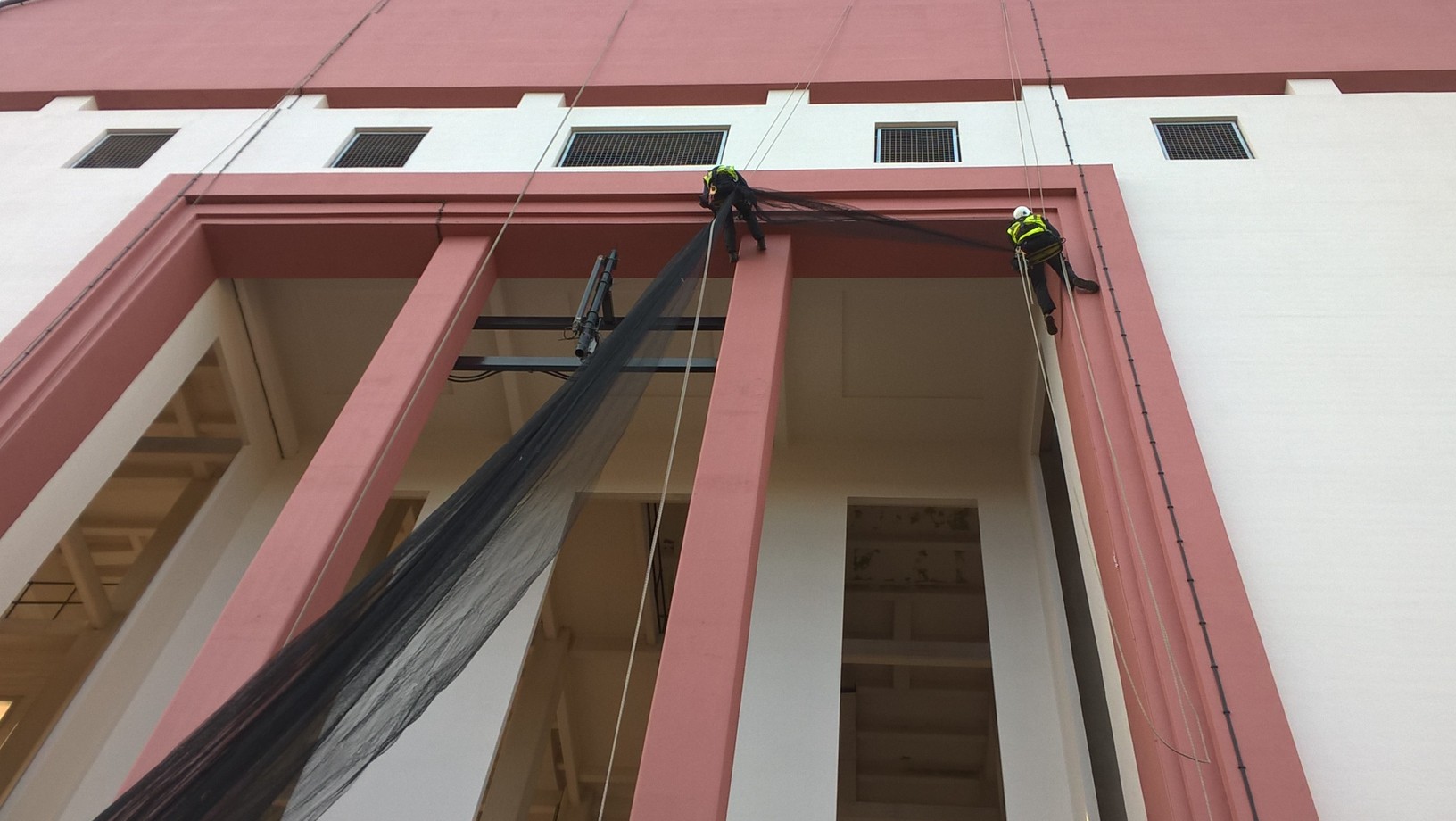 The scaffolding was secured to the side of the tower with fixed bolts. The same technique, however, was not possible on the roof as any drilling would risk piercing the fresh water tanks below. To overcome this, poles were tied together on the roof, providing a counter balance system, allowing opposing sides of the scaffolding to support one another.
Once fully erected, the scaffold was encased in a durable plastic wrapping to stop dust and debris from blowing on to fresh paint work and prevent paint from drifting.
The Chatterton Water Tower was repainted in its existing terracotta and white tulip scheme. Around 10,000 litres of paint were used in the restoration works.