Barhale Tunnels from Chelsea to Battersea
7th December 2017
Barhale, one of the country's leading civil engineering and infrastructure specialists, has achieved the breakthrough of a 330m long tunnel under the Thames from Chelsea to Battersea Park for a new gas pipe for Cadent, Britain's newest and largest Gas distribution company.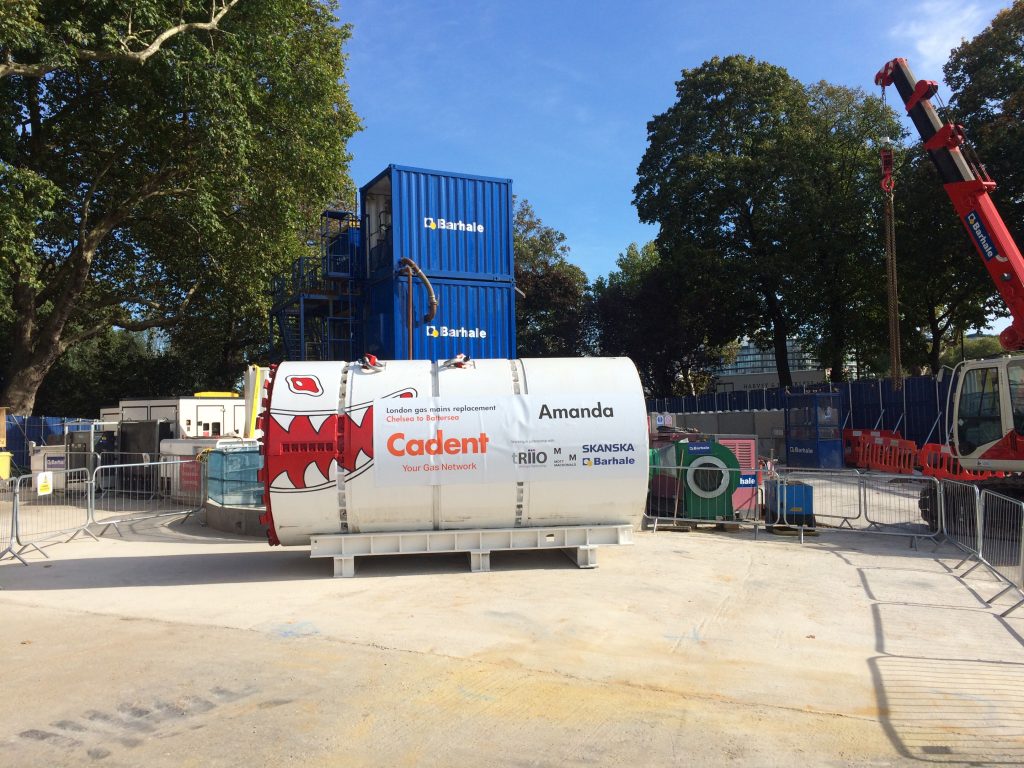 Forming a critical part of Cadent's essential £1 billion programme to replace aging infrastructure in the capital to help ensure Londoners retain safe and reliable gas supplies for cooking and heating, the tunnelling took just over three weeks to complete and saw around 4,500m3 of material excavated.
To prepare for the tunnelling, Barhale sunk two 30m shafts for Skanska Civils, part of Cadent's strategic partner tRII0, which also includes Mott McDonald, one in the grounds of the Royal Hospital Chelsea and the other in Battersea Park, south of the Thames.
"This is a key infrastructure project" says Andrew Hejdner, Project Manager for Cadent. "It's a major commitment by Cadent and will guarantee gas supplies and help ensure that London remains one of the world's leading cities."
Before lowering the TBM (Tunnel Boring Machine) into the shaft in the Hospital Grounds, the famous Chelsea Pensioners were asked to name the machine to be used in Cadent's flagship project. The pensioners chose to name the machine Amanda, after the Royal Hospital Chelsea Infirmary Business Manager Amanda Lord, who has worked at the hospital since 2009.
"Amanda is a well-loved member of staff and does a lot to support us as Pensioners," said Chelsea Pensioner Tom Mullaney.
"I thought she would be delighted to be nominated by the Pensioner community as she is always in the background never in the fore and deserves recognition. One thing I do have to clarify is that she's certainly not boring."
The TBM (Tunnel Boring Machine) was controlled remotely by an above ground operator to carve out the 330m long tunnel. "As the tunnel was the deepest pipejack ever attempted under the river Thames, specific measures were put in place to mitigate for the ground conditions and confined environment of working in central London," says Ovi Frunza, Barhale Contracts Manager.
The tunnelling project has been a significant administrative and logistical challenge with discussions held with 15 different organisations, securing 20 permissions, while working around major projects such as Thames Tideway, the Chelsea Flower Show and the art fair Masterpiece.