BarhaleEnpure JV secures Dewsbury WwTW upgrade
20th September 2023
Yorkshire Water has selected BarhaleEnpure Joint Venture for an £18M project to upgrade Phosphorous removal and flow monitoring at its Dewsbury Wastewater Treatment Works.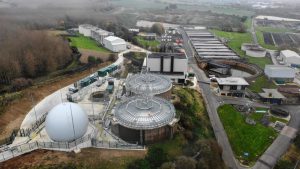 On completion, the works will ensure Phosphorus concentrations in the final effluent meet water industry national environment programme (WINEP) targets for England.
The installation of a UMON4 device will also upgrade monitoring to MCERTS (monitoring certification scheme) standards and will confirm that the treatment works is treating permitted flow to full treatment (2,350 litres per second) when the storm overflow is operating.
Central to the scheme is the transformation of the primary treatment capabilities through the replacement of a number of the 14 existing Primary Settlement Tanks (PSTs) with three new, larger tanks and two new primary sludge pumping stations.
The project will take advantage of off-site manufacturing to pre-cast the concrete wall sections before they are assembled on site to form the new 8.5m deep (deepest at the central de-sludge cone), 45 metre diameter settlement tanks. An existing beck will be diverted to make way for the construction of the tanks.
BarhaleEnpure Joint Venture will convert one of the existing PSTs into a primary distribution chamber that will distribute flow to the new tanks. It will also install a new chemical dosing plant comprising two 40m3 storage tanks and dosing equipment housed in a new DfMA (Design for Manufacture and Assembly) steel-framed building manufactured off-site.
An existing inlet channel will be modified to include the UMON4 inlet flume.
Mark Wood, Barhale's Regional Director for Yorkshire and North East England, believes the Dewsbury contract will make an important contribution to the portfolio of projects taking place within the region, guaranteeing water quality in Yorkshire.
"Effective management of Phosphorous levels can make a big difference to the quality of water in our rivers and streams," he said. "This is a major upgrade for the Dewsbury Wastewater Treatment Works which reflects Yorkshire Water's ambitions for P-removal across its assets and its commitment to meet new standards. This is just one of the many projects being undertaken to improve water quality in the Yorkshire area.
"By using off-site manufacturing techniques for several important elements and reusing existing assets, the build programme will also benefit from reduced carbon impact and time on site.  
"At BarhaleEnpure Joint Venture, we are looking forward to continuing to work closely with the Yorkshire Water team to deliver this important project for the region."
Steve Milling, BarhaleEnpure JV Framework Manager said: "The award of this design and construct contract follows a prolonged Early Contractor Involvement phase of more than two years. Through this period, the BarhaleEnpure JV design team worked closely with Yorkshire Water and Stantec to refine the outline design and introduce significant value engineering changes.
"We look forward to delivering a cost efficient plant design which, when commissioned, will be well able to meet the new Phosphorus standard."
Richard Stuart, Director of Capital Delivery, at Yorkshire Water, said: "We are committed to looking at innovative ways to improve the operation of our sites. This project will make use of a range of measures designed to reduce carbon impact and speed up the length of the works.
"Not only does this provide significant benefits to us and our customers for a cost saving point of view, the work will ultimately lead to improved water quality by removing Phosphorus from treated effluent and provide improved monitoring at the site to ensure compliance."
The project forms part of Yorkshire Water's £500 million investment in Phosphorous removal – part of its ongoing commitment to ensure future facilities meet current and anticipated Environment Agency quality targets.