BCS Group Kits Out Champions
30th October 2018
The BCS Group has sponsored Roger Casements Senior Ladies GAA team who have won the All-Britain Championship.
Going one better than last year, the team which sports the BCS logo on its new shirts, beat Tír na nÓg of Newcastle in Manchester at the All-Britain Championship Final, winning this game by two points. Following this victory, the team will now face the winners of the European Championship next month in a preliminary round match of the All-Ireland Championship. Winning that game will see the Roger Casements team face the winners of the Munster Championship in the All-Ireland Championship quarter final.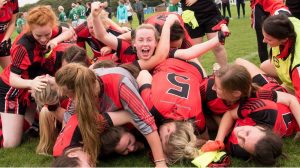 "We are delighted to have been able to help the club with new kits for the senior ladies and the under 14s," says James Mulchinock, General Manager of BCS Group. "It's a fast-growing sport in the UK and many of the attributes needed for the game chime well with construction – skill, vision, speed, team work and a willingness to learn."
The GAA and LGFA (Ladies Gaelic Football Association) is becoming more popular in the UK. Across the Midlands there are five clubs fielding ladies sides at a senior level and a number have introduced a junior set up for girls as well.  On the men's side, there are 15 clubs across the Coventry, Birmingham, Nottingham and Wolverhampton area alone.
"It's fantastic that BCS is sponsoring our ladies' teams", says Brían Ó Longaigh, club secretary. "We had a good season last year but have done even better this year. Gaelic football or hurling is fast, skilful and exciting and you will never see a game finish 0-0".
"The only real attribute you need to play it is the willingness to learn. I would really encourage people to try it. A number of our players in the senior ladies' team this year have gone from complete beginners to battling against girls that have played their whole lives for starting places."
People looking to join the Roger Casements should contact the club via email, Facebook, Twitter or the website.