Barhale's first group of Construction Ambassadors
25th October 2017
Barhale are very proud to introduce you to the first group of Construction Ambassadors who completed their training on Friday the 20th of October.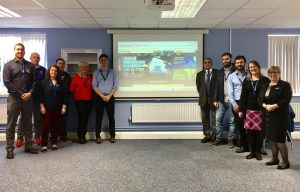 A big thanks to the CITB Construction Ambassadors team for delivering the training.  Our Construction Ambassadors mission is to encourage people of all walks of life, especially those yet to choose a career path, to join our industry and to experience the fantastic career opportunities it brings.  They will be running internal and external careers events, roadshows and general awareness sessions at schools and colleges for example.
We have 2 more groups being trained during November in our Watford and Peterborough offices.
This is a great time to be entering the industry and joining the great team here at Barhale.  If you are interested in coming and working for us, please visit our careers page: here
Rob Houghton, Head of Learning and Development