Construction work to get underway in Dudley for the Wednesbury to Brierley Hill Metro extension
11th February 2021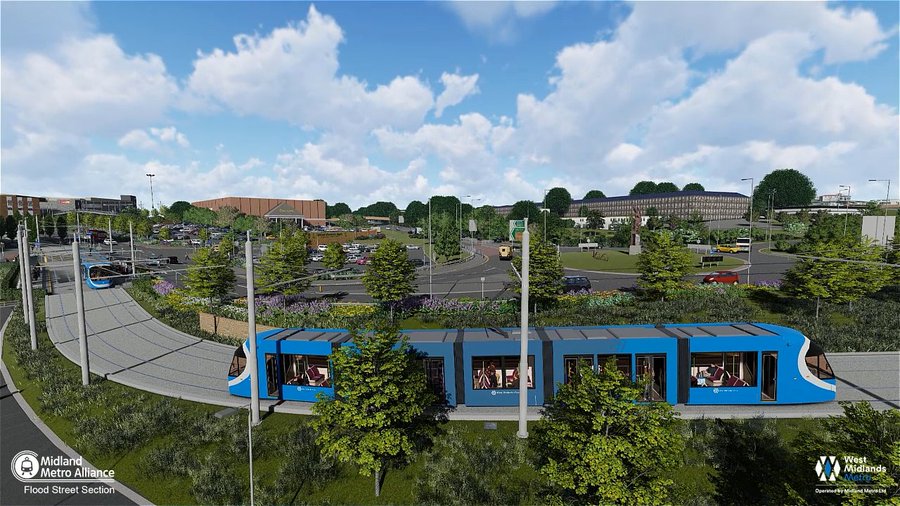 The project to deliver the new Metro extension between Wednesbury and Brierley will intensify this spring when main construction works get underway in Dudley.
Over the coming weeks, work is set to begin on removing the road surface along Castle Hill, preparing the area for track to be installed and bringing the highly-anticipated route closer to fruition.
The start of construction follows the significant progress that has been made on the project last year including the upgrade and diversion of utilities in the area as well as the successful removal of several aged structures along the 11km route.
Andy Street, the Mayor of the West Midlands, said: "It is incredibly exciting that, despite the pandemic, we are able to press ahead and begin the main construction process of the Black Country Metro extension. Not only is the Wednesbury to Brierley Hill extension the biggest light rail project in the UK, but it is also an immediate creator of local jobs and driver of our regional economy at such a challenging time. This Metro extension will be a huge connectivity boost for the people of Dudley and Sandwell, helping to better link these two Black Country boroughs to the rest of the West Midlands, unlocking more jobs and opportunities. The extension also forms a key part of my wider plans for public transport across the region, something that is desperately needed after decades of under investment. I am delighted we are set to properly get underway with construction, and want to say a huge thank you to all the staff who have helped make this happen despite the pandemic."
Councillor Patrick Harley, Leader of Dudley Council, added: "The start of construction will signal another major step forward in the Wednesbury to Brierley Hill Metro extension and I am delighted that these works are about to get underway. This extension, along with other projects across the borough, will play an important part in regenerating the borough, whilst also helping to deliver new homes, jobs and so much more. There will, however, be some unavoidable disruption to those making essential journeys and I would ask our residents and business owners to follow the travel advice. I have no doubt that the new route will make a significant difference to the town and I look forward to the continued progress ahead."
In order to minimise disruption to the road network, the Midland Metro Alliance, working on behalf of Transport for West Midlands, will be undertaking the works on Castle Hill in two phases from Spring 2021 through to Spring 2022. Traffic will be maintained one-way in the direction of Castlegate island from Monday 8 March, ahead of construction commencing, with clearly-marked diversion routes in place to assist road users.
Ian Collins, Project Director, said: "I would like to take this opportunity to recognise and thank colleagues who have continued to safely progress design and construction related activities throughout the pandemic.  Diversions and protections of utility apparatus have been happening in Dudley throughout the pandemic and these works will soon be at a stage to enable physical track construction to commence on Castle Hill. The route is already acting as a catalyst for regeneration in Dudley Town Centre and when completed will provide a much-needed boost to public transport and wider regeneration benefits across the Black Country and Birmingham."
In addition to the work scheduled in Dudley, further activity will take place across Sandwell and Brierley Hill with old canal bridges being demolished in Tipton and historic mine shafts being assessed and treated across the route. Utility upgrades and diversions are also set to begin in Brierley Hill.
While construction is underway, those travelling to Dudley town centre, either by private vehicle or public transport, are being asked to leave more time for their journeys as diversions are put in place.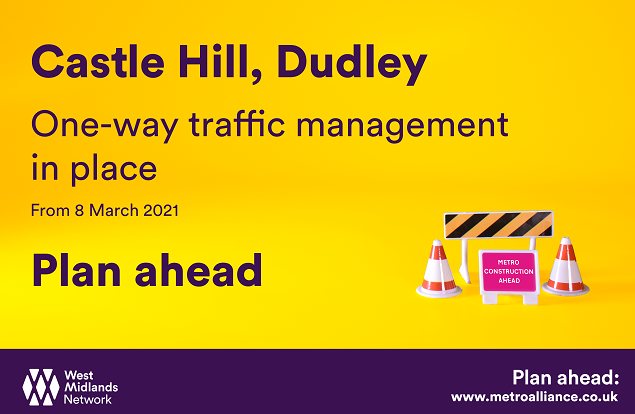 Councillor Jackie Taylor, Sandwell Council's cabinet member for sustainable transport, said: "I am delighted that Sandwell Council continues to work in partnership on this important project. Putting passengers first, offering choice and flexibility around how people travel, as well as promoting the health and the environmental benefits of leaving the car at home is of fundamental importance to me as cabinet member for transport. We are working with Transport for West Midlands to ensure that there are high quality pedestrian and cycle routes to local neighbourhoods. These will hopefully encourage more people to cycle and build on one of the few positives coming from the awful Covid-19 situation – the revival of cycling. These links will make it easier to travel throughout Sandwell for work, shopping and leisure purposes and will help support a 'green recovery'."
Anne Shaw, Director of Network Resilience at TfWM, added: "It is important that we ensure that travel is as easy as possible while construction is taking place for those who need to make essential journeys. We will therefore continue to work closely with both Sandwell and Dudley Councils, as well as our partners at Midland Metro Alliance to help minimise disruption to the travelling public and keep both boroughs moving as the Metro development progresses."
The Wednesbury to Brierley Hill Metro extension will boost public transport in the Black Country, providing much-needed links to the existing heavy and light rail networks, and helping connect people to education, training and career opportunities further afield in the West Midlands.
The extension will also play its part in helping to regenerate the Sandwell, Dudley and Brierley Hill areas, making it more attractive to investors and providing easy access to the region's many and varied attractions via public transport, including Dudley's Black Country Living Museum and Canal and Tunnel Trust.
The investment in public transport will also help support WM2041 – A Programme for Implementing an Environmental Recovery, which aims to see the region become net zero carbon within the next 20 years.
You can find out more about these works, including regular updates, by visiting www.metroalliance.co.uk. For further information about the wider regeneration in Dudley, visit: https://www.regeneratingdudley.org.uk/