Digital innovations and A.I. to provide important improvement for site safety
12th April 2023
The installation of innovative digital safety features on BCS Group's latest excavators will significantly reduce risk for personnel approaching plant on site.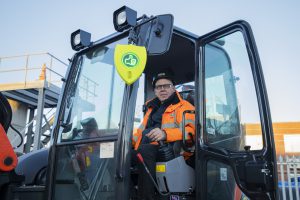 The construction and safety equipment specialist, which is part of the Barhale group of companies, has installed human form recognition cameras and a Digital Thumbs Up system on six new Kubota KX030s and five Kubota KX080s diggers.
The digital technologies have been developed by artificial intelligence, autonomous, robotic and environmental solutions business Safety Shield Global.
The human form recognition uses artificial intelligence to identify when a person has stepped into an unsafe area around a machine, providing an audible alert to the person in the zone and also to the driver. The system has the capacity to report incidents by type and frequency. The data can then be used to help improve safety behaviours on site.
Digital Thumbs Up combines visual and audible signals to let machine driver/operators to advise other personnel wishing to approach their machines know when it is safe to do so. It follows the principles of the established Thumbs Up procedure used across construction but takes it to the next level through the use of unambiguous LED and sonic indicators.
Utilising the new system, when a site user wants to approach a machine, they will give a thumbs-up to the operator. Once the operator has seen the thumbs-up signal, they will bring the machine to a controlled stop and will then press the in-cab 'Thumbs Up' button to isolate the machine's controls – effectively disabling it. The digital shield will then display a thumbs-up to show it is safe to approach the machine along the recognised corridor in line with the Thumbs Up procedure.
Steve Day, Head of Hire at BCS believes the human form recognition cameras and Digital Thumbs Up system will make an important contribution to site safety.
"The Kubota mini-diggers are often employed on quite constrained sites where teams can be working in close proximity so we are always looking out for new measures that can enhance site safety," he said. "We have been very impressed by both the human form recognition and Digital Thumbs Up systems. They are simple and straightforward and build on the established and familiar Thumbs Up procedure used by all our personnel already."
Dave Lally, Operations Director at Barhale said: "We believe this AI technology will benefit sites and personnel by ensuring the people/plant interface is managed in the safest possible way.
"The system will also give us insight into people's behaviours, opening the door for further improvements in site safety and process. Adopting this kit on both new and existing machinery puts BCS right at the forefront of plant safety and will give our clients the additional peace of mind of knowing we are taking wellbeing to the next level."
BCS Group worked with Leicester based, BTE Plant Sales to arrange the installation.
BTE Area Sales Manager, Josh Elliot "It is an exciting time for BCS Group and we are proud to be able to work alongside them and supply the UK's market-leading excavators. Kubota's reliability and ease of use, coupled with a new safety system, the Digital Thumbs Up, demonstrates BCS Group's willingness to put safety at the forefront of their projects, both for site operatives and machine operators. We want to thank BCS Group for their continued business and look forward to supporting them into the future."