BNM Alliance wins Silver Green Apple Environment Award
19th November 2018
BNM Alliance JV (Barhale and NMC Nomenca) have won the Silver Environment Award in the national campaign to find the greenest individuals, companies, councils and communities.
They competed against more than 800 other nominations in the Green Apple Awards for Environmental Best Practice with their project, Elan Valley Aqueduct (EVA) for Severn Trent.
They were presented with their trophy and certificate at a glittering presentation ceremony hosted by Liz Kendall MP at the Houses of Parliament on November 12th, 2018.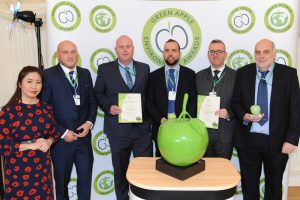 The judges commented: "This alliance between NMC, Severn Trent Water and Barhale had the task of refurbishing a 73 mile aqueduct from Wales to Birmingham. The work was clearly complex but by working closely with the communities involved, negative impacts were reduced to an absolute minimum."
As a result of this Green Apple Award success, they have been invited to have their winning paper published in The Green Book, the leading international work of reference on environmental best practice, so that others around the world can follow their example and learn from their achievement. They could also progress to represent their country in the Green World Awards 2019 and have 100 trees planted in their name as part of the United Nations Billion Trees initiative.
The Green Apple Awards began in 1994 and have become established as the country's major recognition for environmental endeavour among companies, councils, communities and countries.
The awards are organised by The Green Organisation – an international, independent, non-political, non-profit environment group dedicated to recognising, rewarding and promoting environmental best practice around the world.
The Green Apple Awards are supported by the Environment Agency, the Chartered Institute of Environmental Health, the Chartered Institution for Wastes Management, REHIS and other independent bodies.