Midland Metro Alliance celebrates milestone track weld in Centenary Square
22nd September 2020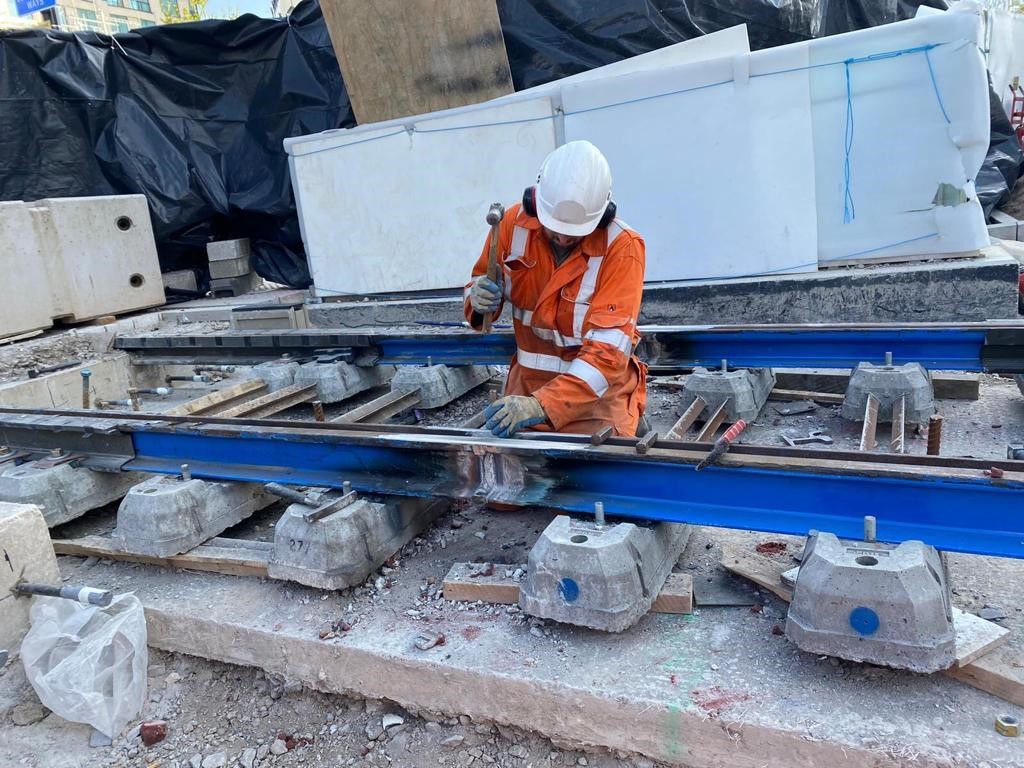 A major milestone for the Birmingham Westside Metro extension was achieved on Sunday as tracks laid last year in Centenary Square were successfully welded to brand-new rail installed in Broad Street.
The activity is part of phase two of the light rail construction project underway in the city centre and means that more than 950 metres of double track are now installed in various locations between Broad Street and Five Ways heading towards Edgbaston Village with only 120m of track yet to be put in place on Broad Street between Gas and Berkley Street junctions. Later this week another step towards completion will be achieved as concrete will be poured in this area on Thursday 24 September encasing the track in its final position. In addition to the small section between Gas and Berkley Street, there is another short section of track to be laid at the terminus on Hagley Road.
Speaking of the milestone, Mayor of the West Midlands, Andy Street said: "Improving our region's transport links is massively important as we make every effort to bring the benefits of economic development to every part of our region. Better transport links are key to bringing the investment in jobs and new homes that we need. And the extension of the Metro is a crucial part of that transport plan. And a crucial part of our plan for cleaner and greener transport. That's why the linking of two pieces of metro line is such an important step on our journey to improved transport connections across our whole region. And that's a crucial element of our plan to recharge our economy as we recover from the impact of Covid-19."
Councillor Waseem Zaffar, Birmingham City Council Cabinet Member for Transport and Environment, added: "Even in these difficult times, the delivery of an extended Metro system further into the city centre and beyond will have a positive impact for Birmingham. I'm sure those living, working or visiting the city will continue to be pleased that this huge project is progressing well, as public transport improvements like extensions to the Metro are still important to the city's overall sustainable travel alternatives."
Planning and preliminary activities to achieve yesterday's engineering feat began late last week as the site area was cleared and prepared. Workers from the Midland Metro Alliance, who are designing and delivering the tramway on behalf of Transport for West Midlands, scheduled works to ensure that there was no disruption to West Midlands Metro services in Birmingham.
Construction on the next stage of the route has continued throughout the Covid-19 crisis after further government guidance was implemented to ensure the safety and wellbeing of the public and the team.
When the route opens in 2021, three new tram stops, connecting passengers to Brindleyplace, Five Ways and Hagley Road, will follow from the current Library terminus, which opened for passenger service ahead of schedule in December 2019.
West Midlands Metro services will then operate between Wolverhampton and Hagley Road in Edgbaston Village, improving transport links across Birmingham and parts of the Black Country, making journeys faster and more accessible.
Marta Gasch, Lead Track Engineer for the Midland Metro Alliance, said: "Although trams will not be running on the new route until later next year, it's exciting to see the connection of the track which we had been installing this year to the existing Metro line. A construction project of this size includes a number of people and I wanted to thank my colleagues all for their continued efforts in helping us to reach this milestone in what is quite a challenging environment."
Throughout the remainder of 2020, those in the area will notice construction moving to a new stage as solid hoarding is removed and activity moves to installation of tram stop furniture, paving and street scene improvements as the majority of the rail laying wraps up. For any further information about the work, including any traffic or pedestrian changes, please visit: www.metroalliance.co.uk