Midland Metro Alliance go back to school to deliver light rail module for Wolverhampton students
20th June 2018
Two graduates, currently working on Midland Metro Alliance's Wolverhampton City Centre Metro Extension, headed back to school at the West Midlands University Technical College in Wolverhampton, to support students with a light rail construction module.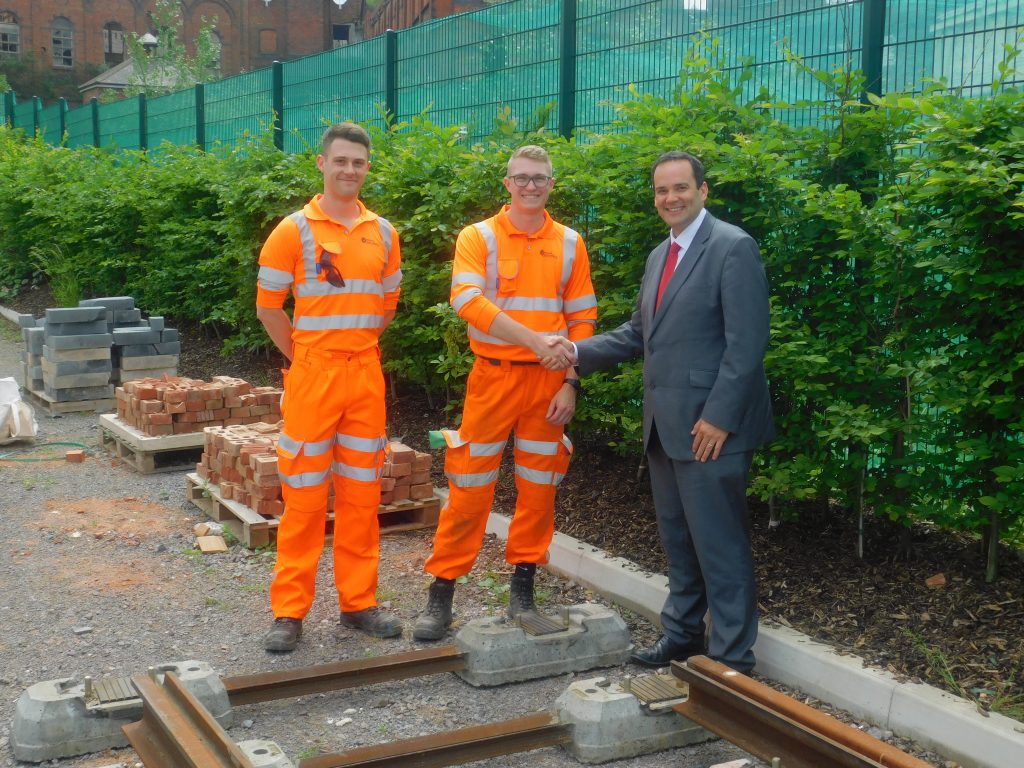 Ben Crowe and Dan Colley designed a construction skills module in order to teach students, aged 14-18 years, about construction of tramways in urban environments. The college's lessons are a mix of classroom lectures and practical construction experience, so in order for the construction element of the course to be completed safely at West Midlands UTC's Springfield Campus, the Midland Metro Alliance also donated test track which was used in the planning stages of the Bilston Road track replacement project, completed last year.
Fourteen light rail sleepers, each weighing around 110 kilograms each, were delivered together with steel rails to the college during half term. Students from years 10 and 12 will learn to install sleepers, track-bed elements and innovative rail encapsulation technologies which allow tram track to be maintained much more easily.
Rebecca Marshall, Lead Teacher of Geography and the Built Environment, said of the collaborative light rail project: "The activities that have been taking place with the Midland Metro Alliance have been really beneficial for our students as it provides them with real examples of construction career opportunities that are available right on their doorstep. Construction isn't just about building houses or commercial properties and this light rail study illustrates the wider skills that construction professionals require, including liaison with the general public."
Last week, two groups of students visited the current Wolverhampton City Centre Metro Extension which enabled them to see construction first-hand and ask questions to the delivery team. The students recognised the benefits that the Metro extension would bring to the city and Morgan Flewers, aged 17, said: "The Wolverhampton extension is a good idea as it connects tram to the train station and means you can use more methods of public transport which is very convenient."
Kristof Hetenyi, aged 16, who travels from Birmingham to study at the college, said: "Working on the light rail project with the Midland Metro Alliance has been really useful in gaining new skills. I haven't ever really thought about building tramways as a path that is available within the construction industry, but now I have much more of an insight in this type of work."
The course is just one of the ways the Midland Metro Alliance is supporting the local college based in Wolverhampton. There are also plans to refurbish one of the classrooms with designs to illustrate the aspirational construction career opportunities available within the transport sector.
Rose Rees, Training and Development Manager for the Midland Metro Alliance, said: "This initiative is part of our wider Connecting Futures strategy which aims to ensure our work benefits the region during the construction phase through development and job creation. The students from the college are only a few weeks into their light rail sector based project but the new skills they are demonstrating are very exciting. It is also very positive to hear they are learning about the different opportunities available right here in the West Midlands in the construction industry."
Julie Nugent, Director of Productivity & Skills at West Midlands Combined Authority, said: "This is an excellent example of the way that industry and education are collaborating across the West Midlands. We need to inspire more young people to consider careers in growth areas like construction, engineering and professional services. Employers have a key role to play in shaping and informing our education and training provision, so that more of our residents develop the skills that our industries need."
The Year 10 and 12 students will continue their lessons with Midland Metro Alliance graduates throughout the month of June, with their project concluding with presentations on their mock-proposals for new light rail schemes in the region. The students have to justify the viability of routes with considerations on usage, cost, sustainability and safety of operation.

West Midlands University Technical College has an open day scheduled for Saturday 30 June 2018. More details are available online at http://www.westmidsutc.co.uk