More Awards Success for the Clifton Wetlands Project!
29th September 2022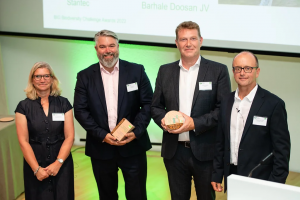 The Clifton Wastewater Treatment Works (WwTW) Integrated Constructed Wetland project has already seen success at awards ceremonies this year and we are delighted to announce that on 14th September, at the CIRIA BIG Biodiversity Challenge Awards, it picked up a further two awards.
The wetland, delivered by the Barhale Doosan JV in collaboration with Yorkshire Water and Stantec, is a low energy, environmentally friendly method of wastewater treatment – the first in England to treat all flows and the first ever Biodiversity Net Gain positive WwTW.
It is great to see this recognised by the winning of the Innovation Award category. To top the evening off, the project was also given the title of Overall Winner, chosen from the winners of the eight categories this year. Congratulations to the whole team on this fantastic accolade!