Mount Mole ready for Newark town tunnelling
2nd May 2017
A state-of-the-art remote-controlled tunnelling machine is ready and in place to start digging below the streets of the town, making room for bigger sewer pipes.
Pupils from Mount Primary School named the tunnelling machine The Mount Mole and were there to see it lowered into a specially-constructed shaft on their school field.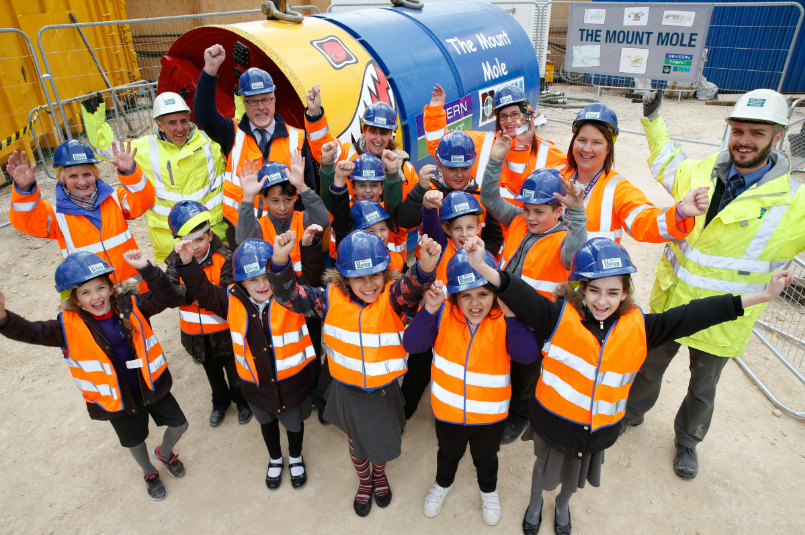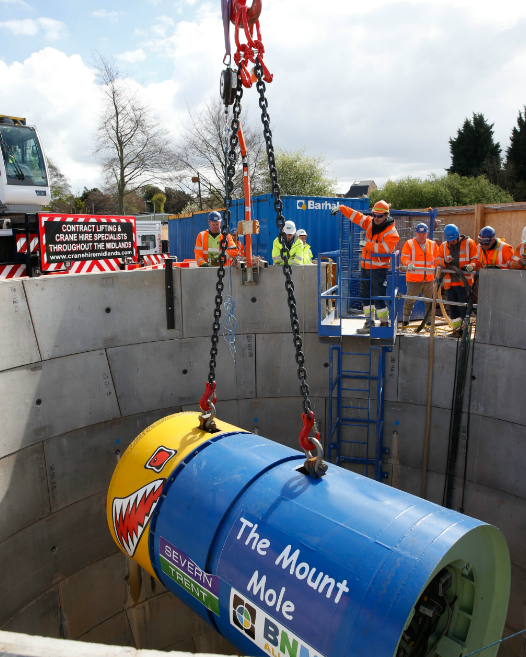 Mr Tim Sawyer, of Severn Trent, said: "This tunnelling will form the groundwork for the new, larger sewer pipes that will protect hundreds of homes and businesses from flooding.
"The amazing thing about this way of working is that, once the machine sets off, it will be travelling underground, all without anyone realising it's there, meaning minimal disruption to the town."
Severn Trent's project in Newark is one of the company's biggest-ever investments in the East Midlands, with the work due to be completed in 2020 and being carried out by contractor BNM Alliance.
The Mount Mole will be tunnelling under Queen's Road for six weeks before resurfacing at the bottom of Sleaford Road.
The Queen's Road tunnel will be 2.1 metres in diameter.
Hundreds of homes to benefit
"This tunnelling comes in advance of a much larger tunnel that we will be creating in July that will be big enough for a Transit van to drive down," Mr Sawyer said.
"That tunnel will run all the way from Crankley Point in the north of town to the southern end of Millgate."
That tunnel will be 2.8 metres across. A 25m deep shaft has been sunk with a 12.5m diameter. The tunnel will be about 20m below ground.
Once the entire project is complete, more than 400 homes and businesses will be protected from sewer flooding.
Severn Trent said the pipes would guarantee a reliable sewer and freshwater system.
"We want to thank everyone in Newark for their continued patience as we work. We will always do what we can to cause as little disruption as possible and hope that everyone will start to see the benefits of this work soon," Mr Sawyer said.