National Customer Service Week
3rd October 2023

Barhale are celebrating 'National Customer Service Week (NCSW)' this week, 2nd – 6th October. This is an annual campaign run by the Institute of Customer Service, which provides a week-long opportunity to raise awareness of customer service and the vital role it plays in successful business practice and the growth of the UK economy.
Within Barhale, looking after all of our customers, whether they be internal customers, our clients or the end-user/general public, is vital to the success of our business.
Today we would like to introduce you to Amy Welbourn, Customer and Engagement Lead. Amy is a confident and energetic member of the Barhale family with a 'can do' attitude. We caught up with Amy to find out what its like being a Customer and Engagement Lead in Barhale.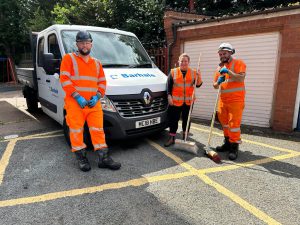 Tell us a little bit about your role and what a usual day for you is like
Well firstly no day is the same, even if you do plan the day ahead you can nearly always guarantee something will crop up and need immediate attention. Usually I start around 7am, by checking the previous day's emails, and addressing anything that has come through during the night. Then I get myself to site and have a catch up with the site team.
What training do you have regarding customer service skills?
For me, excellent customer service has already been engrained in me since birth! My parents both ran businesses from home, so I was always answering the phone and booking appointments etc. from a very young age. All my roles have been in some capacity involving customer service, so I guess a lot of it has been learning on the job, as well as a good few mentors along the way!
Which skills are required for a customer service role?
I believe the main ones are a good pair of listening ears, patience, and a bit of thinking before responding so soon. Sometimes the customer is correct, and sometimes they just need a bit of convincing to be more on the realistic side. Also, try to be on the same level as the customer, so adapt your skills to suit the customer. Communication skills will get you a long way, as long you are clear and get to the point quickly without babbling on too much. I always feel much at ease if I know how to contact someone, so I try to always ensure our customers who I deal with know my name clearly and a direct contact number/email they can get me on if any further issues arise.
How do you handle a situation in which you aren't sure how to help a customer?
I try and put myself in their shoes and think about how I would like to be treated in the specific situation. I also write down methodical resolutions and then think about the bigger picture in terms of if I do that, then what could that potentially lead to. Speaking about a situation with your project team and talking scenarios through helps.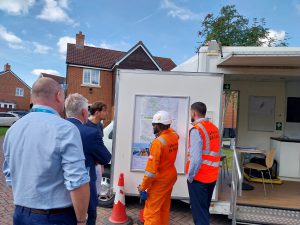 What are some essential phases of the customer journey?
For the customer to fully understand why you are contacting them, where you are calling them from, and know how to contact you if they need to follow up with you.
Can you describe a situation in which you had to serve a difficult customer? Which approaches did you use to deal with the situation?
Yes! There's been one recently where I called the customer to book a feasibility appointment for us to install a flood mitigation device and to put it lightly, they were not happy with what device was being offered and demanded a review and would not cooperate with feasibility until this was done. In this instance, I let the customer vent their frustrations and get everything off their chest and basically started the conversation again, empathizing with them along the way in terms of how bad the flood was and how badly they were affected. During this process, it required me to go back to our SPM to clarify points and take points back to Thames Water directly which the customer appreciated. Eventually, after some perseverance and patience, Thames Water reviewed the case and decided to change the device being offered, and the customer was left happy!
Have you ever experienced a customer service issue that required a creative solution?
I think some customer service issues require a bit of give and take and meeting a middle ground where you can agree.
What advice would you give someone looking to explore a career in Customer Engagement with Barhale?
Barhale is a great place to work, it has a real family feel and everyday is different. As long as your patient, methodical, kind hearted and passionate about delivering excellent customer service then you'll strive.
We will be encouraging our employees to share their views on how we can continue to ensure our customers' requirements are met as we know that every single one of them has a part to play in achieving this.
To find out more about National Customer Service Week, please visit: https://www.instituteofcustomerservice.com/events/ncsw