NAW2018 Meet our Electrical Apprentice – Joshua Betts
7th March 2018
National Apprenticeship Week 2018 (NAW2018) takes place 5 to 9 March 2018. The theme for NAW2018 is 'apprenticeships work'.
In support of this we would like to introduce you to Joshua Betts, our Electrical Apprentice based in our Eastern region.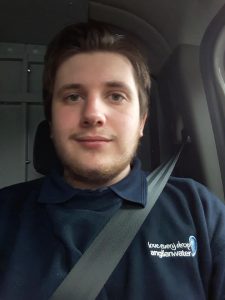 Joshua Betts – Electrical Apprentice
My Role and what it involves
My region of work is the Ely area, which spans the area between the areas of Wisbech and West Walton down to Ely and Mildenhall. I am an Electrical engineering Apprentice who's working alongside electrical maintenance engineers of Anglian Water, with who I can learn from and participate in various jobs in the area, ranging from simple resets and float changes, to pump lifts and modifications to control panels. With this, I'm learning how to carry out these jobs and how to use the right tools for the right job.
What made me want to join Barhale
Barhale is a large company with various opportunities to learn and improve, and including its involvement with the @one alliance, is part of a large industry that is vital to the UK.
Highlights so far
My first day traveling was one of my highlights, going out down to Thetford and helping carry out my first float change. This set the tone for the days since then, and I've enjoyed every day so far.
Key piece of advice for any aspiring apprentices
My advice for anybody new, would be to get involved as much as you can and never be afraid to ask a question, whether it's for a job you're doing or for something outside of that. There's no such thing as a stupid question!
One improvement that the business could make
For the business itself, I think what it needs to improve the most is opportunities to visit Barhale offices and sites, so apprentices can get a proper look at where they could be working in the future.