NAW2018 Meet our Electrical Apprentice – Sean Maloney
7th March 2018
National Apprenticeship Week 2018 (NAW2018) takes place 5 to 9 March 2018. The theme for NAW2018 is 'apprenticeships work'.
In support of this we would like to introduce you to Sean Maloney, our Electrical Apprentice based in our Eastern region.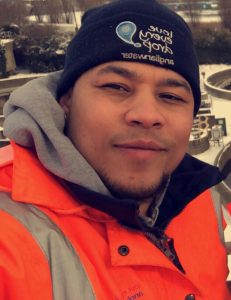 Sean Maloney – Electrical Apprentice
My Role and what it involves
The team I currently work for is based in Spalding and the surrounding areas. My role is an electrical apprentice; this role involves maintaining the sites within our patch and making sure everything is working currently and operating as they should be. There is a long list of the type of jobs we come across. Jobs can be anything from unblocking a pump, fixing pipe work or even finding electrical faults within a particular system. For example if a site alarm sends out information that a pump is blocked, it is our responsibility to attend that site and take the required procedure to unblock it and then make sure the system is running as it should. A lot of the work we do is maintaining systems and also working to make them more efficient if we can.
What made me want to join Barhale
I joined Barhale because they presented me with a good career opportunity within an industry that I was keen to get involved in. I think this career has provided me with work that will last for years to come which encouraged me to join.
Highlights so far
A highlight for me since I joined has been getting an insight into the type of work my team does. Before started I didn't have much knowledge on what goes on within the sites I work at and how the water treatment process works. This has given me an idea of what goes on behind the scenes which has been extremely interesting and definitely a highlight for me so far.
Key piece of advice for any aspiring apprentices
Advice I would give to a prospective apprentice would be to always work hard. There is a lot of new things to learn from what we come across while working so I would also encourage newcomers to always listen and pay good attention. This would best help them to take everything in and maximise the amount of stuff they learn. Prior to the college course I didn't have any engineering experience before so my technical knowledge wasn't the best; however I understood that my attitude towards the work was the most important thing. From this I would also encourage apprentices to always keep a good attitude.
One improvement that the business could make
One improvement I think that could be made would be to further tailor the contents of our college lessons to the physical work we do out in the field. I think this would massively help students with the transition between working in the classroom and working out on site. This could be as simple as taking students out to the exact sites they will be working on or meeting the teams they will be with.