Building on career prospects with Degree Apprenticeships
7th March 2019

National Apprenticeship Week 2019 takes place 4 to 8 March 2019.
National Apprenticeship Week is coordinated by the National Apprenticeship Service and is designed to celebrate apprenticeships and the positive impact they have on individuals, businesses and the wider economy.
National Apprenticeship Service
The National Apprenticeship Service is part of the Education and Skills Funding Agency, which is an executive agency of DfE. We coordinate and promote the delivery of apprenticeships in England.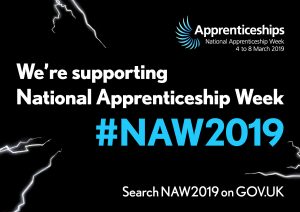 Four of our Barhale employees are the latest to benefit from studying a Degree Apprenticeship at the University of Wolverhampton.

Jacques Deneys, Ryan Smith, Robert Chihaia and Alan Seeby are all employed by Barhale, one of the largest privately owned civil engineering and infrastructure specialists in the UK with over 35 years' experience in the construction industry.
We have offices across the UK with our Head Office based in Walsall. The four employees have recently joined the Chartered Manager Degree Apprenticeship (CDMA) programme which is delivered at the University of Wolverhampton Business School.
The Apprentices will study part-time over a three year period, with the qualification covering all aspects of business including management, marketing, human resources, finance and operations management, and leads to Apprentices becoming Chartered Managers with the Chartered Management Institute (CMI).
Ryan Smith, 32 from Worcester, is currently a Section Foreman at Barhale, works full-time and is a father of three. He said: "When I joined Barhale I was particularly impressed that as part of their recruitment package they promise to 'source, train and retain' and it was clear that they were focused on continuous professional development for their employees.
"I left school with GCSEs and went straight into the construction industry, working on the tools, so have been away from education for 17 years and never had the opportunity to further my learning. Being offered the chance to study for a degree while I'm working is allowing me to step up, possibly to Construction Manager level and the modules that I'm studying really relate to the work I do."
Jacques Deneys, 32 from Chelmsford, works as a Site Manager full-time at Barhale and has two children. He said: "We're only a couple of modules in to the course and already I'm learning about managing people and taking things back into the workplace.
"Construction is an ever changing environment and I really want to keep up with the changes so that I can move into Project Management in the future. Whilst it does take quite a bit of effort when you're working and juggling family life, as well as studying, I know that it will be worth it in terms of my personal career development."
Colin White, Learning and Development Team Leader at Barhale, said: "We're really proud at Barhale that we can offer this level of development to our staff and the University of Wolverhampton is the perfect partner for us in delivering this. Our commitment to development is emphasised by our 'Source, Train and Retain' strategy and we have also recently joined the 5% Club too. This is our first cohort that are going through the CMDA qualification and we are confident that more employees from Barhale will benefit from this fantastic programme in the coming years."
As well as CMDA, the University is offering Higher and Degree Apprenticeships in Construction Management with pathways for Civil Engineering & Built Environment, Manufacturing Engineering, Product Design & Engineer, Chartered Surveying, Chartered Legal Executive, Digital Technology Solutions Professional and Healthcare Science Practitioner.
The University's Apprenticeship Hub provides a bespoke and independent venue for potential apprentices, employers and learning providers, offering clear and integrated progression routes for vocational pathways.
Employers of all sizes can benefit from the programme – those paying the levy can use it for the programme whilst those who do not pay the levy benefit from a 90% contribution towards the training costs from Government.