QEII Reservoir Site Team Wins Thames Water Project Pride Award
17th November 2021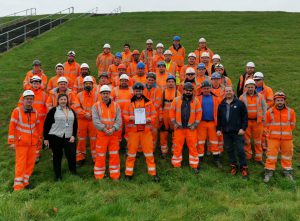 The Project Pride Awards have been introduced by Thames Water this year to recognise and reward projects working as part of the Capital Delivery AMP7 Framework who are achieving Health and Safety Excellence and we are delighted that our Queen Elizabeth II (QEII) Reservoir Project Team has been successful in their first submission for these awards.
The team got together on 15th November 2021 to celebrate their success, with a visit to site from Mark Taylor, Director, London Capital Delivery Office (Infrastructure) at Thames Water to present the award.
The awards are due to be issued on a six-monthly basis to projects of all sizes and at all stages of the construction lifecycle, to those who are assessed to have consistently achieved standards befitting of 'Excellence'. They cover a range of criteria such as leadership, competence, health and wellbeing, safe workplace, engagement, communication, performance and improvement and environment. The team were particularly recognised in the competence area, for developing skills to work in a safe and healthy way.
Congratulations to the team!