Queen's Platinum Jubilee Medal awarded to Paulina Biela, Business Development Administrator
7th June 2022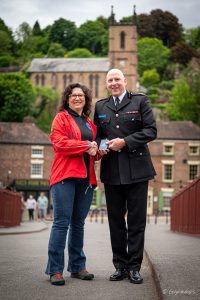 To mark The Queen's Platinum Jubilee, a special commemorative medal has been awarded to serving frontline members of the community. The Queen's Platinum Jubilee Medal is a recognition of exemplary service by members in frontline emergency roles, prison services and the Armed Forces with at least five full years of voluntary service.
Volunteers from Midlands Cave Rescue Organisation were honoured to be recipients of the Jubilee Medal in celebration of Her Majesty The Queen's Platinum Jubilee. The medals were presented by the Assistant Chief Fire Officer for Shropshire Fire & Rescue Service, Simon Hardiman, on the iconic bridge at Ironbridge Gorge.
Paulina Biela, Barhale's Business Development Administrator, has been awarded the Queen's Platinum Jubilee Medal in recognition of her life-saving voluntary work with Midlands Cave Rescue Organisation.
On being nominated for her Queen's Platinum Jubilee Medal, Paulina explained:
"It is a privilege and a great honour to receive the Queen's Platinum Jubilee Medal. I am proud to receive this medal as recognition for all the voluntary work undertaken over the past years amongst the men and women of the emergency services. People don't volunteer because they have the time, they volunteer because they care. When joining the organisation, I never expected any recognition or rewards as we are only there to help when this is most needed."