Spades set to hit the ground for new Metro extension to Digbeth
25th May 2021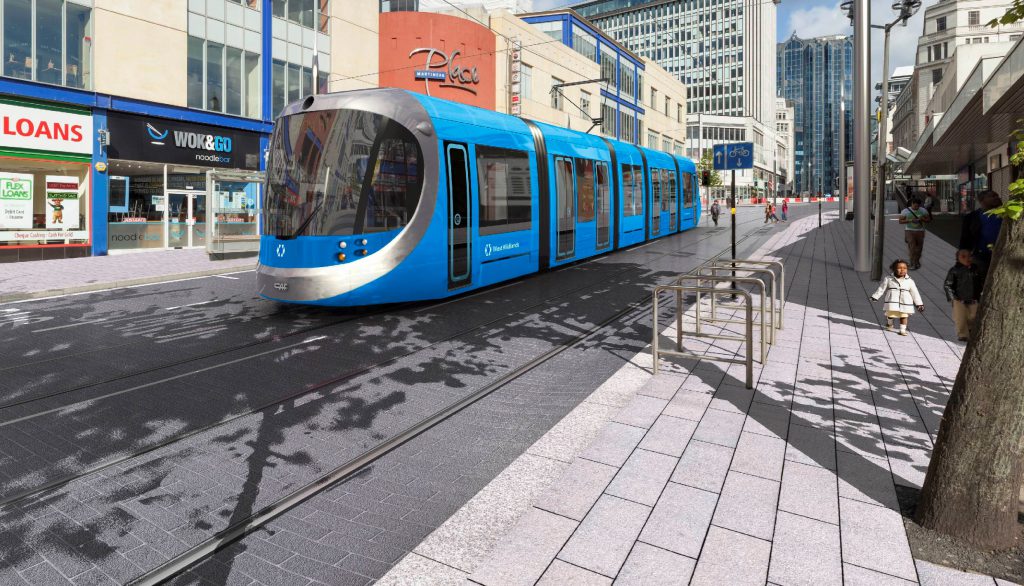 Construction will get underway for the Birmingham Eastside Metro extension when spades hit the ground on Lower Bull Street to make way for a new tramway junction in the city centre next month.
The Midland Metro Alliance, working on behalf of Transport for West Midlands (TfWM), will begin preparatory work to lay new track along Lower Bull Street from Sunday 6 June, bringing the much-anticipated route closer to fruition. This next phase of works, which will begin with the completion of the remaining utility upgrades and diversions, will mean that Lower Bull Street will close to all vehicular traffic during construction. Pedestrian and business access will be maintained at all times. Buses serving Lower Bull Street will be diverted to additional stops nearby.
Andy Street, the Mayor of the West Midlands, said: "Officially starting work on the tram line out to East Birmingham is incredibly exciting. Not only are we playing our part in Digbeth's incredible transformation by linking it to the main transport network, but we're also helping to protect and create local jobs at such a critical time for many. Major transport projects guarantee significant work for the construction sector and their employees, which is why schemes such as these are so important to get on with. As well as connecting the east and west of Birmingham by tram, this extension will also provide a direct route for many across the Black Country to travel directly to the new Curzon Street station for HS2. This is just one of three metro extensions that are currently underway, along with the re-opening of old railway lines and stations, a re-design of our cycling network, and the introduction of electric buses. For decades public transport in this region was under-invested in, but over the past four years I've increased our spend seven-fold, and will look to double that again over the next three years. The West Midlands deserves a world-class transport network, and that's what we're creating."
Councillor Waseem Zaffar, Birmingham City Council Cabinet Member for Transport and Environment, added: "I'm really pleased to see the Eastside extension get off the ground. This new line will improve transport links in the city, providing people with more sustainable travel options and contributing towards a better Birmingham for everyone. I look forward to seeing the progress made over the coming months."
As the project moves forward, further works will be carried out in the summer to connect the new tracks with the existing line at Bull Street ahead of passenger services opening to a new terminus in Edgbaston later this year. West Midlands Metro (WMM) services will terminate at Bull Street tram stop in the city centre later this summer while these works are carried out and further details will be confirmed over the coming months.
Maria Ion, Project Director at the Midland Metro Alliance, said: "That we are now gearing up to start main construction on the Birmingham Eastside Metro extension signals a really important step forward in the project and I am excited to see these works get underway. There will be some unavoidable disruption while these works take place but we will continue to work closely with our partners Birmingham City Council, Transport for West Midlands and West Midlands Metro to minimise this wherever possible."
Metro services are set to return to their regular terminus before autumn 2021 as testing and commissioning work is set to begin for the Birmingham Westside Metro extension to Edgbaston. The work in Lower Bull Street will be completed by spring 2022.
Sophie Allison, Head of Business Transformation at Midland Metro Limited, the operator of West Midlands Metro, explained: "Although there will be some localised disruption to services, we continue to provide access into the city at Bull Street tram stop. We will be providing customers with more information before the works commence, so that they may plan their connecting journeys in advance."
Midland Metro Alliance has been working with partners to keep those in the local area informed of these planned activities, including writing to all schools, university and colleges in Birmingham to help students plan their journeys during term times. In addition, the alliance's dedicated Stakeholder Liaison Officer has been communicating with businesses in the area to keep them up to date with the construction schedule and to offer support including assistance with receiving deliveries.
Anne Shaw, Director of Network Resilience for TfWM, said: "With recent milestones in the roadmap out of lockdown, we have seen more people using public transport again, which is great to see. We are asking that, with this in mind, the travelling public to continue to plan their journeys using real-time information. Throughout construction activities around Birmingham, public transport continues to serve the city centre and additional stops have been provided where necessary."
The £227m Birmingham Eastside Metro extension, will run from Bull Street, in the city centre, to Digbeth, adding four new tram stops to the Metro network. More than half of the 1.7km route is planned to be free of overhead wires, similar to the recently opened extension from Grand Central to Centenary Square.