Time to Talk Day 2019 will take place on Thursday 7th February
6th February 2019

How are you?
Many of us will answer 'fine', even when we're not.
Too often, mental health problems are treated as a taboo subject – something not to be talked about, especially at work.
However, mental health affects us all and we should feel able to talk about it. There are lots of different ways to have a conversation about mental health. And you don't have to be an expert to talk.
One in four of us will experience a mental health problem and 9 in 10 say they have faced negative treatment from others as a result. By choosing to be open about mental health, we are all part of a movement that's changing the conversation around mental health and ensuring that no one is made to feel isolated or alone for having a mental health problem.
Jo Southan, Barhale's Health & Wellbeing Lead, said: "The statistics around mental health in construction are truly worrying. It's been widely recognised that one in four people have mental health concerns, while a report commissioned by Public Health England last year found that male construction workers were at the greatest risk of suicide.
"It is our duty, as a responsible employer, to maintain both the physical and mental welfare of all our colleagues. Many people find it difficult to talk about mental health and we're trying to help break that silence."
As part of our ongoing commitment to this, Barhale are supporting Time to Talk Day. Taking place on Thursday 7th February, this is a day when everyone is encouraged to have a conversation about mental health.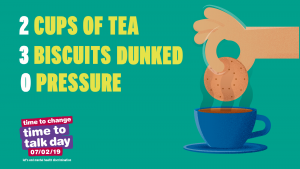 We all have time to take a 10 minute tea break, so why not take the opportunity on Thursday to have a team break and get to know each other a little better. Becoming familiar with the people around you means you are more likely to notice when someone is acting a bit different and potentially pick up any earlier warning signs. A report commissioned by Unum (our Employee Assistance Provider) showed that people with mental health conditions reduced absenteeism by 18% when they had prevention and intervention services in place – a simple conversation is an intervention.
We want everyone who works for and with Barhale to feel they can be open about their mental health, and ask for support if they need it.
Jo Loughran, Director of Time to Change, said: "Mental health problems are common and can affect any one of us, yet too often people are afraid to talk openly about mental health for fear of being judged. There are lots of different ways to have a conversation about mental health. And you don't have to be an expert to talk. Whether you're talking on a walk, or listening over a cuppa, your chat can make a big difference. However you do it, make a conversation about mental health this Time to Talk Day."
For information about Time to Talk Day and how you can get involved please visit www.time-to-change.org.uk/timetotalkday