Wednesbury to Brierley Hill Metro extension moves step closer
9th November 2018
The Wednesbury to Brierley Hill Metro extension has moved a step closer with the next stage of the project now underway.
Utility investigation works have begun in Dudley signalling the start of works to bring the ambitious project to extend the West Midlands Metro from Wednesbury to Brierley Hill via Dudley closer to fruition.
This significant step forward for the project has been welcomed by Dudley MBC councillor Kieran Casey, Cabinet Member for Regeneration and Enterprise and Councillor David Hosell, Sandwell Metropolitan Borough Council's cabinet member for Highways & Environment.
The preparatory works in Dudley Town Centre will be taking place in Flood Street, King Street, Birmingham Street and Castle Street. The current works will help confirm the locations of existing services and will involve several small excavations. To allow the work to be completed safely, lane restrictions may be in place, where needed.
Councillor Kieran Casey said: "The start of these works along the route is excellent news for the project and shows the progress the scheme is making. People can now see that this much-anticipated extension is moving closer to delivery. This project will provide a significant boost to our local economy, as well as providing benefits to residents across the region by making it easier for them to get to jobs, and the national and international rail network with travel times estimated at being approximately 40 minutes from Dudley Town Centre to Birmingham City Centre."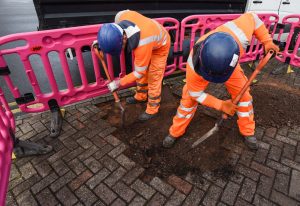 Councillor David Hosell added: "The improved transport links will create huge opportunities for jobs, education and tourism in Sandwell and Dudley, allowing speedy and sustainable travel between this part of the Black Country and both Birmingham and Wolverhampton."
The Wednesbury to Brierley Hill Metro extension will enhance public transport in the Black Country, providing much-needed links to the existing heavy and light rail networks, including High Speed 2 (HS2), and helping to connect people to education, training and career opportunities. Passenger service is expected to commence in 2023 with plans for up to 17 Metro stops.
The extension will also play its part in helping to regenerate the Wednesbury, Dudley and Brierley Hill areas, making it more attractive to investors, and, when complete, will provide easy access to the intu Merry Hill shopping centre via public transport.
The route, along with four other tram extensions in the West Midlands, is being planned, designed and delivered by the Midland Metro Alliance on behalf of Transport for West Midlands (TfWM), which has embarked upon an ambitious plan to regenerate the region and provide new opportunities for residents and businesses.
Laura Shoaf, Managing Director of TfWM, which is part of the West Midlands Combined Authority(WMCA), said:  "By extending the Metro from Wednesbury to Brierley Hill, we will not only help to regenerate this part of the Black Country, but will help to improve transport links in the area and allow people from further afield to travel via public transport to the many great tourist and leisure attractions here, including the Black Country Living Museum, the Dudley Canal & Tunnel Trust, intu Merry Hill Shopping Centre, and the Dudley Zoological Gardens."
"The fact that we are at the next stage in the project is good news. When operational, the Metro extension will not only bring fantastic benefits to the Black Country, but will play an important part in creating a transport network that helps bring greater prosperity to the West Midlands."