World Mental Health Day – 10th October 2018
10th October 2018
It may seem like we have been doing a lot to cover the subject of mental health this year – but that's with good reason.
Approximately 1 in 4 people in the UK will experience a mental health problem each year and in England alone, 1 in 6 people report experiencing common mental health problems such as depression and anxiety in any given week. In 2017 there were 6,213 suicides in the UK and Republic of Ireland and on top of all this, 300,000 people with long-term mental health problems lose their jobs every year. But there is some positive news. There has been a significant decrease in male suicide in the UK, and the male suicide rate is at its lowest in over 30 years. The Samaritans believe that a focus on mental health, suicide awareness and encouraging men to open up and ask for help has been a major contributing factor to this reduction. So we are making a difference, but there is still work to be done.
We have delivered our Engineering Better Mental Health Management programme over the past 7 months to almost 300 people and it will continue to be delivered as part of  the core skills matrix. The feedback from these sessions has been evaluated and reported back to the senior management team, and on the back of this, we will also be rolling out a suicide awareness programme and 1 hour mental health awareness session available to everyone.
World Mental Health Day is supported by the World Health Organisation and this year the theme is 'Young People and Mental Health in a changing world'. You can read more about it using the link below. http://www.who.int/mental_health/world-mental-health-day/2018/en/
There are so many positive ways to improve our mental health, today could be an ideal opportunity to take the time to discuss mental health and positive mental health with the young people around us. Plenty can be done to build mental resilience from an early age and prevention begins with being aware of and understanding the early warning signs and symptoms of mental illness and knowing how to improve mental wellbeing. A good place to start is the 5 ways to wellbeing. Click on the picture for more information.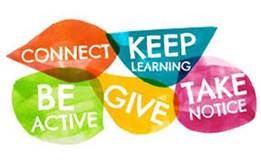 If you, a colleague, a family member or a friend is struggling with mental health issues, there are many places to obtain support. There are lots of useful services and organisations that offer help and support directly list on the following website: https://www.mentalhealth.org.uk/your-mental-health/getting-help
Together we can make a different!