Three Pillars of Business Sustainability
Our three core objectives are to make a profit, by working safely and with regard for our environment; we strive to align these to the aims of our customers and to the Barhale Vision. All three aims encompass the essential components of a successful business and were developed to meet our customers' business objectives of receiving a high quality, sustainable product through safe and efficient working based on improving performance. Customers have been fundamental to our success for 40 years with our aim of exceeding expectations driving best in class business performance and innovation.
Profit is driven by well-engineered solutions based on excellent planning ensure on-time and snag-free projects served by a nimble and responsive organisation
Safety and Health is our main consideration in everything we do
Environment is core to all our activities, in which we aim to deliver best environmental practice, sustainable business decisions and sensitivity to the communities in which we operate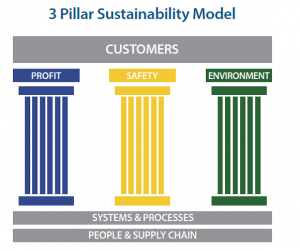 Our Three Pillars are supported by effective systems and processes, along with our most important asset – our people – and our supply chain, selected, performance-managed and incentivised to deliver innovation and efficiencies to Barhale's customers.
We call this philosophy our 'Three Pillar Model – Profit, Safety, Environment; these Pillars are used as our benchmark for Key Performance Indicators across our business to measure success, identify areas for improvement and to ensure the 'Barhale way of doing things' is visible in all our people and our operations.