£1.2 million trunk main test facility improves Thames Water network resilience
13th April 2023
A £1.2 million trunk main testing facility, a first for the UK water industry, is helping Thames Water improve the efficiency of its water network investment programme.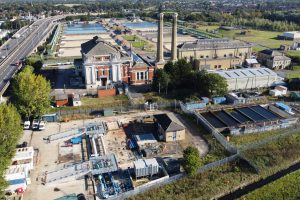 The Jeff Farrow Trunk Main Test Rig mimics a trunk main in the water network and allows the company to trial different technologies without any risk or supply interruption to customers.
It is being used to test commercial in-pipe condition assessment devices to measure how well they can find defects in large cast iron pipes, such as corrosion, which weakens the metal but can be hard to detect. If left unchecked these types of defects can lead to major bursts and disruption for customers.
Built by Barhale to a design by Pick Everard, the pipe rig, located at Thames Water's Kempton Park water treatment works, has been named in memory of retired Thames Water engineer Jeff Farrow, who passed away in 2020. It was formally opened at a small ceremony in March 2022 by Jeff's son Matt. Jeff had been a leading contributor to the construction of the Thames Water Ring Main and had been described by the BBC as a modern-day Brunel.
Thames Water's engineering innovation team have hosted trials by two specialist suppliers and are now in the process of validating the results.
Caroline Sheridan, Thames Water Engineering and Asset Director, said: "The completion of the Jeff Farrow Trunk Main Test Rig was a huge milestone in helping us to better understand the condition of our cast iron trunk mains, by enabling the testing of innovative in-pipe technology in a safe testing environment.  
"Reducing leaks and bursts is one of our most important priorities as we turnaround our business but also one of our biggest challenges, with nearly half of the pipes in London more than 100-years-old.  It's vital that we prevent bursts from happening in the first place and it will be exciting to see the results from the Jeff Farrow Trunk Main Test Rig, which will help inform our plans to build resilience and protect our network for years to come."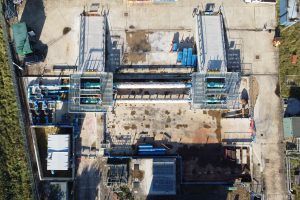 Barhale director Andy Flowerday believes the rig is a game-changer for testing technologies and for finding new ways to manage the risks of bursts across the trunk main network.
Andy said: "This is a first-of-its-kind testing facility and is a very positive reflection of Thames Water's commitment to research and development. It will have significant impacts in terms of extending the life and resilience of existing infrastructure assets and in the reduction of disruption and inconvenience to customers. 
"We're very proud to have worked alongside Thames Water to design, build and, ongoing, to be operating the Jeff Farrow Trunk Main Test Rig. We are also pleased that the very first technology trial produced some extremely promising results, vindicating both its concept and operational deployment."  
Once the initial programme of trials is complete, Thames Water is exploring options to open the Jeff Farrow Trunk Main Test Rig to the wider water industry to enable other trunk main technologies to be developed and trialled.
Thames Water's leakage teams repair over 1,000 leaks per week – one leak every 10 minutes and the company will spend over £55million to further help reduce leakage and £200million replacing water mains, over the next three years.
A video by Thames Water and Barhale has been created to further explain the testing process.
Further information about The Jeff Farrow Trunk Main Test Rig:
The facility is a 90-metre loop of 600mm and 900mm diameter pipework and is fitted with pumps so water can be pressurised and circulated through the pipes. The layout has two removable sections that are 15 metres long, which allows cast iron pipes with natural and deliberate defects to be inserted for testing.
Commercial in-pipe condition assessment devices are inserted into the test rig to locate and identify pipe defects. The devices use electromagnetic or ultrasonic sensors that scan the pipe wall as they travel through the cast iron pipes.
If the testing and validation confirms that one or more devices are suitable for use within the live network, Thames Water intends to use them in real trunk mains to provide an accurate view of the condition of kilometres of pipe.
This capability will mean that if a length of trunk main is identified as being very high risk and in need of replacement, instead of installing new pipe for that whole length, engineers could replace the sections that are in poor condition and leave the rest of the old pipe in service.