A year on from the first lockdown… Mark Robinson
13th April 2021
Our fourth and final 'A year on from the first lockdown…' interview and we would like to introduce you to Mark Robinson, a General Foreman based in our southern region.
What has the last year been like for you?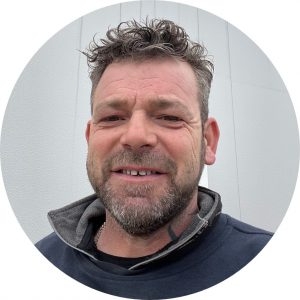 It has been like a rollercoaster. I had just recovered from six months of illness when I went back to work on 20th January 2020 , I got my full fitness back in the middle of March and then COVID-19 hit a week later and I was furloughed for three months.
COVID-19 hit me financially and mentally but I have become stronger and more aware now from this experience.
What have you found the most difficult?
Being able to make close contact with my work colleagues. I feel it is important when you spend quality time with them on a weekly basis and COVID-19 has made that pretty much impossible.
Have you felt supported and reassured throughout?
Yes, Barhale has been amazing with me. I am considered a high risk person and when I returned from furlough in January 2021 they took every precaution and gave me the duty of grounds keeper in Tyttenhanger House until they made sites safe for my return as a Foreman.
What do you think has been managed well?
Social distancing has worked very well and the standard on welfare and social spaces have been brought to a very high standard to protect us all against COVID-19.
What has the last year taught you and what changes do you plan to keep in place long after COVID-19?
The biggest things to have come out from COVID-19, in my opinion, are that we are not as selfish, we look after each other more and we have a much greater awareness that life is precious. Remember to respect each other's space.
What have you missed most?
I've missed the freedom to simply walk around the shops. I'd also like to socialise with my work colleagues so we can talk freely about daily life in a comfortable space.
How well do you think Barhale responded to COVID-19?
Barhale have responded amazingly. They acted immediately with the care and wellbeing of their staff in mind and without a financial thought. They pulled out all the stops.
As an employee working within the essential services sector do you feel a sense of pride?
Absolutely, I take great pride that we have been chosen and privileged to be working when so many others lost their jobs and loved ones.
And lastly, what is the first thing you are going to do when this is all over?
I usually organise the Christmas parties for the lads working on site, so we're definitely looking forward to the next Christmas party, St Patrick's Day and the Barhale summer party. We all deserve this as it was a hard year for everyone.