Barhale completes tunnel inspection at one of Europe's largest urban wetlands
11th March 2021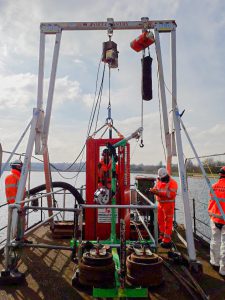 Our Southern team have completed tunnel inspection works at Walthamstow Wetlands in Central London as part of the Tunnels and Aqueducts programme within Lot 5 of Thames Water's AMP7 framework.
Walthamstow Wetlands is a fully operational Thames Water site comprising 10 large reservoirs which provides water to 3.5 million people across the capital.
In addition to inspecting the tunnel network around the reservoir complex, the team also worked alongside the client and London Wildlife Trust to carry out other site refurbishment works including the installation of a new turning point and path widening for vehicle access.
On completion of the works, London Wildlife Trust's Visitor Operations Manager, Jen Robertson said, "The finished job is an excellent standard, and the team were very willing to work around the complexities of being located right next to publicly accessible spaces."
Barhale Foreman, Alan Seeby also said that the team are pleased to have worked on such an iconic site in London.
"It has been an absolute pleasure for the team to successfully carry out the works on behalf of Thames Water. In doing so, we have improved both the condition of the site and the natural habitat to be handed back to the London Wildlife team at Walthamstow," he said.
Barhale is supporting Thames Water's drive to enhance biodiversity and reduce carbon across its AMP7 programme.