Construction Enquirer Top Ten award winners revealed
9th August 2017
The Top Ten winners of the Construction Enquirer awards have now been revealed after more than 10,000 votes were cast by the industry.
Barhale is delighted to be named a top ten award winner in two categories:
Best Main Contractor to Work For (£50m-£250m)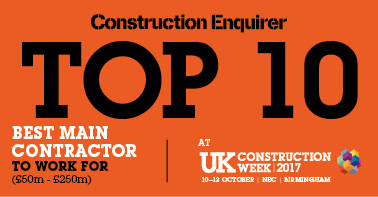 Best Main Contractor to Work With (£50m-£250m)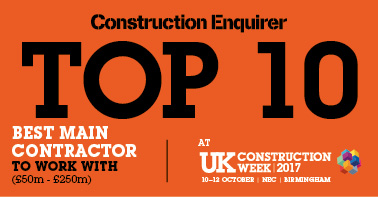 Being voted for by your peers makes an Enquirer Top Ten place a unique badge of honour – awarded to construction companies by construction people.
Enquirer editor Aaron Morby said: "The industry has voted in vast numbers for its favourite firms making these awards the real people's choice.
"Letting real industry people decide winners is a much better way of recognising great performance and only the Enquirer can deliver this level of response from construction companies.
Now all sides of the industry will come together to celebrate at the awards night in Birmingham on October 10 alongside UK Construction Week. The company who came first in each category will also be revealed on the awards night.
Thank you to everyone who voted for us!